Bachelor party in Salou: Ideas and activities for an epic party
One of your best friends has just gotten engaged and as his friend, one of your responsibilities will be to help coordinate the bachelor party in Salou.
This guide is designed to help you plan the perfect bachelor party. (not just a party) that stimulates on a physical, emotional and intellectual level, and facilitates all the ties of the "last day of freedom".
Also we have Incredible tips on how to plan a bachelor party in Salou. And maybe we'll give the bridesmaid some bridal shower ideas.
What will you find in this article?
Ideas and Activities farewell Salou
Strippers and a "Hangover" alcohol level can be a lot of fun, but we know you can do better. For a truly epic send-off, plan a real adventure.
The main objective is to create a lasting memory, and nothing stands out more than something new, exciting, and a little extreme. This list of ideas for bachelor parties in Salou shows you how to make it happen.
Starting with a conservative approach not too far from the standard "drinks and strippers," is a themed outing to a club, bar, or pub. This will almost certainly be the main activity of our bachelor or bachelorette party in Salou.
Look at the best nightclubs in Salou so you can choose for your bachelor party. The ideal is to reserve a VIP table to have a unique memory of the night.
It is recommended to spend the weekend in Salou to have 2 days and one night or organize a bus that will return you home at the end of the night.
Now if we are going to see the best activities to do for a bachelor party in Salou.
Salou airport? No, Reus Airport next to Salou
Boat Party Bachelor party in Salou
This is possibly one of the best things to do for a bachelor party.
Although the port of departure for the boat is in Cambrils, this is the best boat party on the entire Costa Daurada.
Discover the wonders of the Salou coast on a luxury catamaran cruise with snacks, barbecue and drinks. Relax on a private Balinese bed and bathe in the turquoise waters to the rhythm of good music.
Sail the blue waters of the Mediterranean on a catamaran tour of the Costa Dorada from Cambrils. Choose between a 3-hour boat trip with snacks and drinks, a 3-hour boat trip with drinks only, or a 5-hour boat trip with a delicious barbecue lunch and drinks. Stop to swim and snorkel at spectacular locations.
Get on board the boat and set sail from Cambrils. Excellent Boat Party option for your bachelor or bachelorette party in Salou.
Enjoy views of the dynamic coastline and turquoise waters as the catamaran sails back to Cambrils.
Can consult this website to organize your boat party.
Guided off-road quad tour of Salou and surroundings
Ok, we have sold the boat party very strongly, but we understand that it is not to everyone's taste. For parties that prefer to keep their activities on the ground and with fewer people around, get outdoors. Rent a quad to go out with all your friends on the road.
Explore the surroundings of Salou in off-road vehicles with a minimum displacement of 300 cc. Quad bikers will enjoy going through small roads, forest paths and gravel tracks.
Enjoy driving your quad through the roads of Salou. Your professional guide, who will also accompany you throughout the route, will explain how to use the quad and correctly handle the equipment.
A fantastic activity for bachelor parties in Salou who want to spend an unforgettable moment in nature. All routes are led by a professional guide who speaks English, French, Russian and Spanish. The routes are designed to accommodate both beginners and families, allowing you to enjoy every moment of your adventure.
Dear bridesmaid, the above ideas are perfect alternatives for outdoor bridal showers. Feel free to add them to your "maybe" pile.
Epic Paintball War for your farewell in Salou
Continuing with the testosterone theme, almost all of the boys grew up playing army. Running through the yard or forest, defending your country from enemies with your fingers or sticks, and emerging as a hero!
Reliving your childhood memories with childhood friends is the ideal stag party event, and paintball can make it happen..
Summon your inner warrior and jump into battle for the low price of 45 € or less per person. This can be the perfect opportunity to mix it up with the bachelorette party ideas for the little boys vs. girls competition. Losers pay for the drinks.
This is one of the best Salou paintball.
Radikal Paintball:
Beach volleyball
If you are lucky enough to work a summer wedding, a day in the sun of Salou can be the perfect setting. Most public beaches have a volleyball court set up and available. This is the perfect activity to combine with others on our list.
Your beach day can include a competitive game of volleyball, complete with a frisbee and a soccer ball to throw. This option is great because it has the added benefit of providing a healthy tan so you can look your best on the big day.
With each option, be sure to bring a playlist and speakers to set the mood for the day.
Other ideas for bachelor parties in Salou
The opportunities are endless with things to do for the bachelor party. Maybe it's an all day affair or possibly a weekend celebration is called for.
EXTREME SPORTS
Is the boyfriend a thrill seeker or does he just enjoy getting out and being active? Skydiving and bungee jumping are options if you want to push the limits of sanity. If you want to try something a little less heart attack-inducing, there are always other extreme sports like zip lining, hiking, and paintball. Keep the weather in mind when planning these activities.
WINE TASTING
Is the groom a beer or wine connoisseur? No? Well, that doesn't really matter. Wine or beer tastings are great fun.
You can enjoy your favorite drinks while expanding your knowledge and appreciation of them.
Some tours include snacks or even a meal at the end of the tour. Don't you like wine tastings? How about a pub crawl?
WATERSPORTS
A weekend at the lake is perfect for the summer and can provide adventure and still give you some time to relax and have a drink. Popular water sports are water skiing, wakeboarding, rafting, and tubing.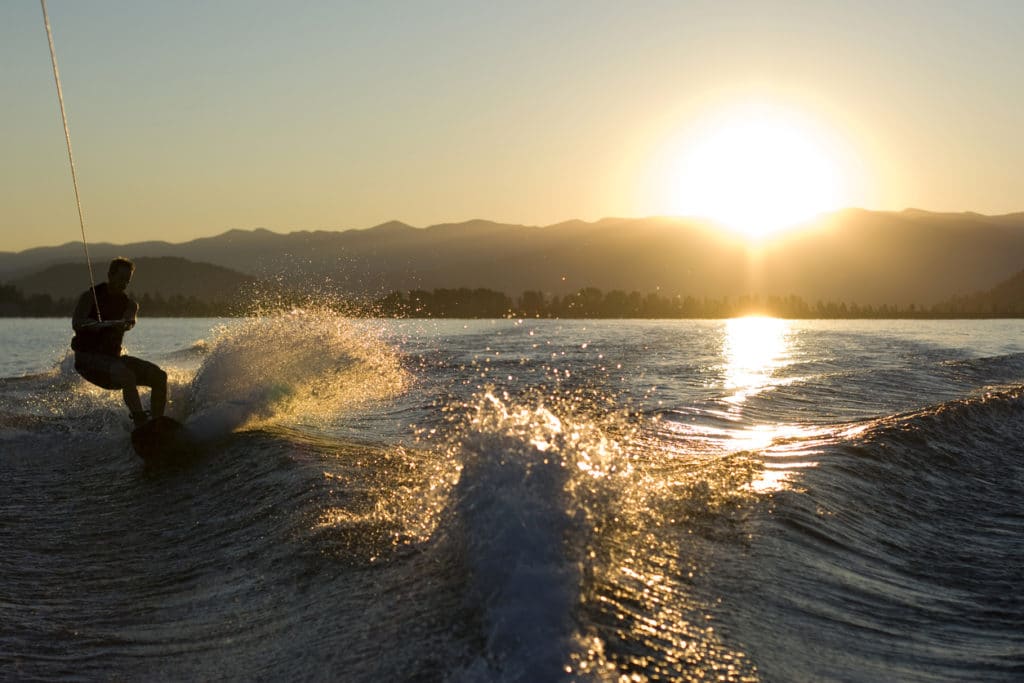 FISHING
Fishing is one of the most amazing experiences a man will ever experience. If you've never been and live moderately close to a lake or ocean, definitely consider this trip as part of your bachelor party weekend.
Chartering a fishing charter can be fun, and it's a no-brainer for the groom who loves to fish. But even if not every guy is a fisherman, most people can quickly pick up the basics.
CASINO
Reserve a hotel room at the Imperial Tarraco, the same building as the Casino Tarragona, and the group will be able to gamble, eat and drink all night. The advantage is having a place to stay at the end of a long night out.
Look at this post to know everything about the Tarragona Casino
WHAT TO DO AND WHAT NOT TO DO AT A BACHELOR PARTY IN SALOU
There are many different ways to organize a stag party, from elegant five-star dinners to a weekend of activities in and around Salou. But regardless of your preferences and tastes, there are some basic tips worth following.
Are Bachelor Party Do's and Don'ts they can take you to achieve success as an organizer or conversely evoke failure.
1. DON'T LET THE GROOM PAY
As generous as he is, the groom shouldn't have to pay anything during his bachelor party. It's his last night out as a bachelor, so take care of him. Certain exceptions can be made, especially if the celebration lasts a weekend or more. But be sure to cover it when necessary; After all, it's your celebration, right?
2. DO SOMETHING DIFFERENT
If your group always hangs out at the same bar or goes to the same restaurant or club, don't go back to that location for the bachelor party. Take the groom somewhere different, hopefully somewhere nicer as well. Whether he admits it or not, this is a big deal for him, so do something special. Do your best, that way you won't regret it when you look back at night 10 years from now.
3. DON'T LET YOURSELF BE TIRED
This is particularly important for weekend excursions or trips to Las Vegas. No, we're not talking about doing anything illegal here, but some really simple things can help ensure that everyone is energetic and enjoying the party. Sleep can be hard to come by on a bachelor party weekend, especially if an all-night poker tournament is on the cards.
So know where to find a good cup of coffee if you're on an overnight trip. Better yet, bring one of your own coffee pots with you. This can also save you a lot of money - Starbucks gets expensive!
4. DO SOME ADVANCE PLANNING
As good as the plot of The Hangover was, don't try to throw a bachelor party closer to three days before the wedding. There are too many things that can go wrong. Trust me, the bride and her family will thank you. Be sure to start planning ahead as well, especially if there are multiple friends traveling for the occasion.
5. DON'T LET THE GROOM DO ANYTHING HE REGRETS
He's still engaged, after all, so don't let him get too out of hand. The best man's job is to make sure the groom behaves, which is actually the second most important thing he has to do, besides planning the bachelor party in Salou.
Everyone else is on their own, just make sure you keep an eye on the boyfriend. If Mario Lopez can be caught, then there's no reason to hope he won't.
6. REMEMBER TO HAVE FUN
Despite all the excitement and planning of your bachelor party celebration, the most important thing is to have fun. At the end of the day, it's all your friends together celebrating an important moment in the groom's life.
Keep an eye on that among all the other crazy things that may or may not be going on. And remember that at the end of the day, what matters is not where you are or what you will do, but who you are with that really counts.
Different drinking games for your farewell party in Salou
You can't sit and drink all night. That would get boring pretty quickly and lead to some drunken blackouts. The solution is drinking games!
For absolutely free, you can laugh the night away by playing quarters, beer pong, drunken Jenga, or any number of card games. Also, check out some of our bachelorette party games that can easily be transformed into glorious drinking games. If you're budget conscious, these are the best cheap bachelor party ideas.
Standing still can be too bland for some parties. For a real bachelor party, plan a pub crawl! The best way to do it is not to put a time limit on each location.
Rather, apply a budget for each destination. Dedicate, for example, 100 $ to each space. Make sure there is variety to keep the evening flowing. The best mix is to start in a good pub to have a good conversation.
Afterward, go to a pool hall for some activity. Move on to a restaurant/bar for a hearty meal. The rest of the night can consist of clubs for dancing, a jazz lounge to relax a bit, a strip joint and maybe some gambling.
What to bring to a bachelor party in Salou
It is difficult to know what to take to a bachelor party in Salou. This is because guys don't care much about gifts, and just want to have fun. But if the groom wants gifts, he must indicate this in the invitation note. In case you need to bring something to a bachelor party, here is a list of the best gifts.
Emergency kit for minor injuries
Hangover kit, like Advil
Lots of food, because there is no party without it
assortment of drinks
Toiletries
Condoms to keep everyone protected. But the boyfriend must remain faithful, so it's not for him
A deck of cards for fun
cigars
Suit or sports jacket and tie for a formal meeting
Go Pro camera to capture every moment
poker chips
Gym clothes
Water bottles
club wear
Swimsuits
Loafers, sandals and flip flops for comfort
Frequent questions
Who is responsible for paying for a bachelor party?
All expenses must be divided equally among those attending the party.
Does the godfather pay anything?
Part of the best man's responsibility is to give the couple a wedding gift. The best man may also choose to give the groom an individual gift, but it is not required.