Definitive guide to the best beaches (and coves) in Salou 2023
Surely you travel to Salou attracted by its beaches. Along its 14 kilometers of coastline, we find golden sand beaches and crystal clear waters that will make us feel like we are in paradise.
The Costa Dorada is full of true natural jewels, perfect for relaxing in the sun and encouraging yourself to try new adventures. In this new guide we are going to review the best beaches in Salou, from the largest and most touristy to the most hidden and lost coves.
Put on sunscreen and get ready to discover the best beaches and coves in Salou.
Have you ever wondered why the Golden Coast is it called the Gold Coast? Just one look at the miles of pristine beaches will answer your question in a second.
The popular seaside resort of Salou has a firm commitment to the maintenance and quality of all its beaches.
What will you find in this article?
Best Beaches in Salou
From the city center, the Jaume I promenade borders the urban beaches of the city and extends to the Miramar promenade. These urban beaches are one of the reasons why Salou got the title of Family Tourism Destination.
They are located a step away from the center, they are fully accessible, they have lifeguards and their waters are clean and calm. Imagine staying in a holiday home in Salou and being able to comfortably get to the beach.
Salou beaches and coves map
Platja Llevant
Llevant or Levante beach it is the main beach of Salou, so it is one of the most popular. Close to the center and surrounded by the brand new Jaume I promenade, this beach offers all the services and amenities, so if you don't mind being surrounded by towels, families and groups of friends, you will surely enjoy it.
Throughout its 1.2 kilometers we will find numerous bars, playgrounds and rental services for sunbeds and umbrellas. Everything is designed to enjoy with the family, during the high season workshops are organized in the playground that will delight the little ones.
From Llevant beach we can access the Club Náutico de Salou, where we can practice all kinds of water sports: sailing, kayaking, jet skis. This beach has everything you need to enjoy the good weather and come back from your vacation with a lot of new experiences.
Platja Ponent
The beaches of Ponent and Llevant are the ones you will see in the typical Mediterranean postcards: long beaches of golden sand, crystalline waters, palm trees and lots of towels and people walking around.
Platja Ponent is made up of more than a kilometer of fine sand and crystal clear, shallow and calm waters, and is the natural extension of Platja Llevant.
If you go by car, you cannot miss this article about Where to find free parking in Salou.
Its proximity to the center of Salou, its easy access and all the services it offers make it one of the favorite beaches for families.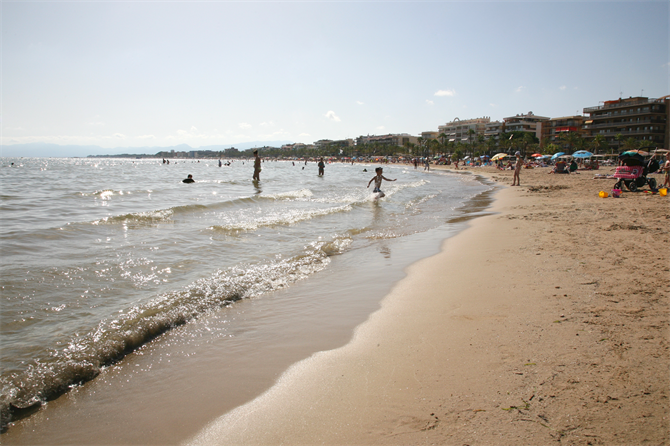 Platja Capellans
Just half a kilometer from the center of Salou, we find this small cove 200 meters long. Its golden sand and its calm and transparent waters make it very popular among tourists and locals, as it is very comfortable and safe.
From one end, we can access the Parapet walk, a hiking route that borders the coast of Cabo de Salou revealing small coves and cliffs. Again, the beach is very safe since its slope is very gentle and it has lifeguard services.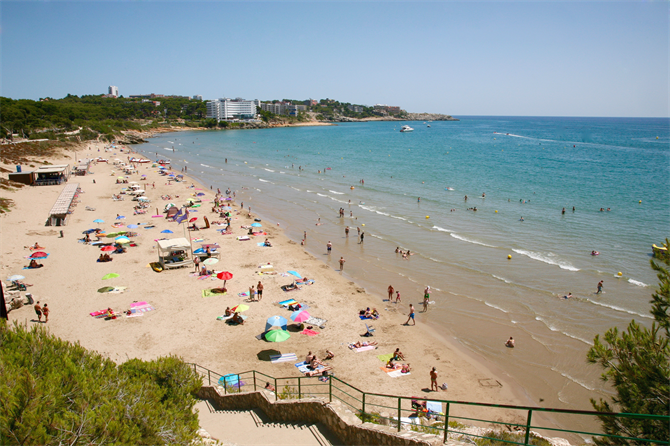 Long Beach
If we stray a little from the city center, we will find this jewel on the coast of Salou. It is an example of the perfect symbiosis between mountain and sea. Surrounded by a pine forest where we can enjoy a picnic in the shade, this semi-urban beach stretches along 600 meters of fine golden sand and transparent waters.
The best thing you can do is arrive in the morning to enjoy the tranquility of nature, because after a few hours it gets crowded. There is the possibility of renting hammocks, sun loungers, umbrellas and even skates to take a walk along the promenade that borders it.
In Playa Larga we can practice all kinds of water sports, from jet skis to ski bus rides or enjoy the views of the sea and the coast from a pedalo, which can also be rented.
Best coves Salou
The urban beaches of Salou are very comfortable if we travel as a family and we don't want to worry about anything, but the true magic of the Mediterranean lies in the coves hidden between the cliffs of Cap Salou.
Do not miss the spectacular beauty of these enchanting beaches smaller and more beautiful than the ones we have seen so far and, if you are lucky, you will even be able to stay in one of the beautiful holiday homes near these coves of Salou.
Apart from beaches and coves, Salou offers endless activities and leisure, look at the best things to do in Salou.
Cala Llenguadets
throughout the Parapet walk we will arrive at this small cove of no more than 125 meters in length. It is very close to Capellans beach, separated by Punta del Porroig. It can only be reached on foot and access is a bit more complicated.
You have to climb some stairs, but the effort is worth it because the bunkers that were built during the Spanish Civil War are still preserved in the area. It is one of the best coves in Salou.
On the beach you can rent hammocks and cool off in the only beach bar in the area. We recommend that you stay until nightfall, the sunsets here are some of the most beautiful on the Costa Dorada.
Cala Llenguadets is one of the best coves in Salou.
Cala Font
This semi-urban cove is located in the most touristic area of Cabo de Salou and hence its popularity. However, its natural environment, flanked by pine trees and rocks, as well as the quality of its seabed, make it one of our favorite beaches. from Salou.
The beach is well known among snorkelers, as its calm crystalline waters and the rocks that appear along the entire stretch of coastline give it a unique underwater beauty.
It is also the most common anchorage point in the area, since the sea is very calm and the views from the coast are spectacular. For those looking for a little more comfort, there is a place where you can rent sun loungers and umbrellas
Next to Cala Font we will find a smaller cove, known as Cala Vinya or Cala Pinetell, only 35 meters long and 60 meters wide, where you can find all kinds of services.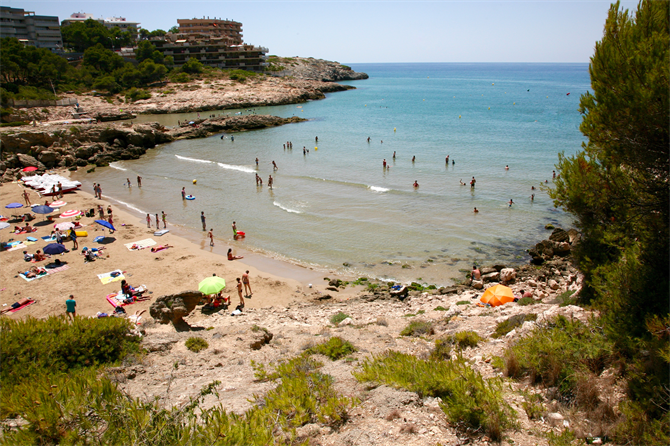 Carved Penya Cove
If you want to enjoy the tranquility without having to worry about finding a place to put your towel, we recommend this adorable cove. It is 125 meters long and 10 meters wide and is surrounded by vegetation, so the scent of pine trees permeates the entire environment.
Penya Tallada could be translated as "cut rock". The beach took its name from a rock formation that juts out into the sea, which has eroded to form a wall that divides it from another, much smaller and more intimate cove, known as Les Mabres.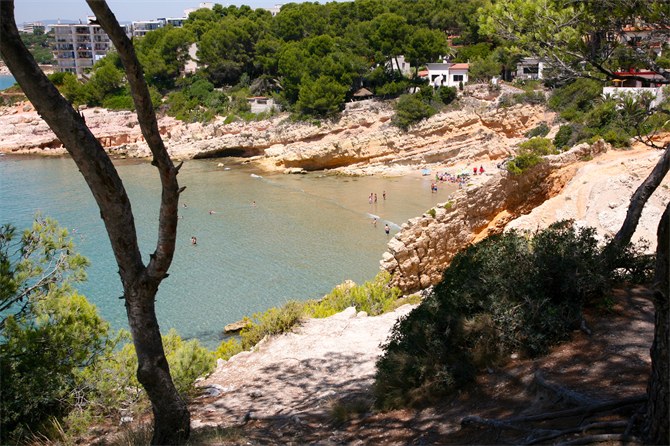 Thanks to its location, the Penya Tallada cove is not that popular and little known by tourists, so it is never stressful or crowded. In this cove we will not find any type of services and precisely for this reason we can focus only on disconnecting and enjoying the nature and the sea that surround it.
To get there we can go on foot, through the Parapet walk or by local bus, which stops 200 meters from the beach.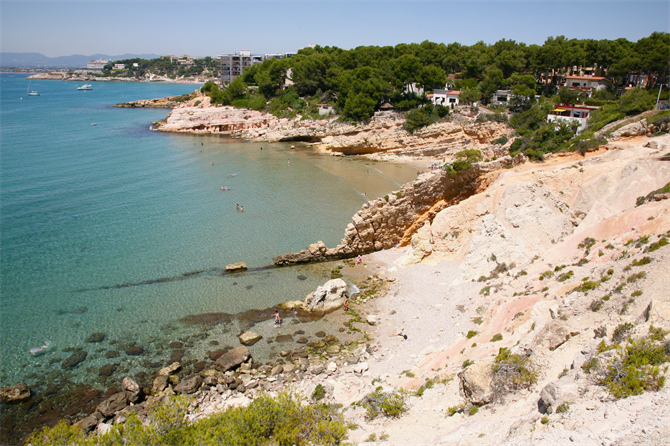 Cala Crancs Salou
If you are looking for beautiful coves near Salou, you cannot miss Cala Crancs. You can walk but you will have to walk about 45 min. - 1 hour. from Salou
Cala Crancs is the last beach located in Cabo de Salou. It is well known, especially among families traveling with small children, since the water here is very calm and shallow. The beach is 80 meters long and 45 meters wide, and here we can rent sun loungers, umbrellas and hammocks.
There are few ways to get to Cala Crancs: by car, local bus or walking along the Parapet walk. To enjoy incredible views of the sea and the natural environment of Cabo de Salou, we recommend that you go up to the natural terraces on the hill on one side.
In addition, your children will be more than happy playing in the small playground hidden under the shade of the pine trees, while you can enjoy beautiful views of the coast sitting on one of the benches.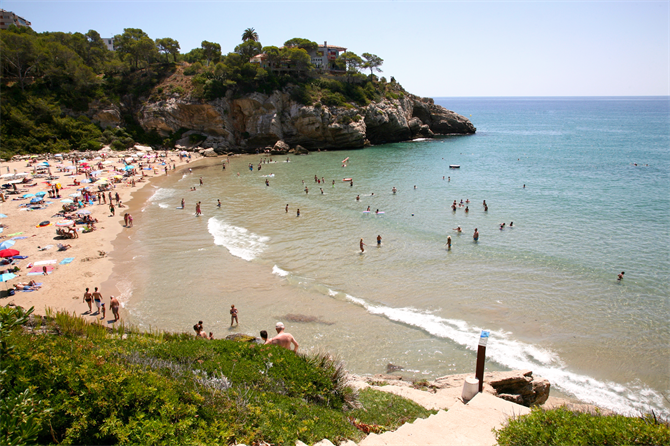 ohIf you want to see beautiful coves in Salou, you cannot miss Cala Crancs!
Beaches near Salou with few people
Salou is a popular tourist destination on Spain's Costa Dorada. Although it is famous for its busy beaches, there are many lesser-known beaches nearby that offer a quiet haven for those looking to escape the crowds.
These beaches are ideal for those looking for a bit of peace and quiet, and are perfect for relaxing, sunbathing and enjoying the Mediterranean Sea in all its splendor.
---
1. Pineda Beach
A few kilometers north of Salou, this beach is known for its crystal clear waters and its calm atmosphere. Although popular with locals, it rarely gets crowded with tourists, making it a great option for those looking for a bit of tranquility.
2. Cala Crancs
This small cove is a true hidden paradise. Surrounded by nature and with turquoise waters, it is the perfect place to relax and disconnect from the world.
3. Capellans beach
Although it is close to the center of Salou, this beach is usually less crowded than its more famous neighbours. It is ideal for families and has all the necessary amenities.
4. Carved Penya Cove
Its name, which means "carved rock", refers to the impressive rock formations that surround this cove. It is a magical place that will transport you to another world.
5. Vilafortuny Beach
Located between Salou and Cambrils, this beach is known for its golden sand and calm waters. It is perfect for a relaxing day in the sun.
💡 Although in season it should be mentioned that there are people on all the beaches, but if you go to any of these beaches in June or September you will not find overcrowding or as many people as on the best-known beaches in Salou.
---
Why choose less crowded beaches?
Choosing less crowded beaches near Salou allows you to enjoy a more authentic and relaxed experience. In addition to avoiding the crowds, these beaches tend to be cleaner and offer a more natural and peaceful environment.
---
Tips for visiting beaches with few people
Arrives early: The less crowded beaches can get crowded as the day progresses.
Take provisions: Some beaches do not have nearby services, so it is a good idea to bring water and snacks.
Respect the environment: Help keep these beaches clean and pristine so everyone can enjoy them.
☀️ FAQ
1. What are the main beaches and coves in Salou?
- Playa de Levante: It is the main beach of Salou with 1200 meters in length and fine sand. It is equipped with showers, toilets and an extensive promenade.
- Playa de Poniente: A beach of approximately 1000 meters in length that borders the marina and the municipality of Cambrils.
- Playa de los Capellanes: A 200-meter beach with buildings on the sand.
- Playa Larga: A 500-meter beach surrounded by forest.
- Cala de Lenguadetes (Llenguadets): A small cove between Cala dels Capellans and Playa Larga.
- Salou cape coves: Includes Morisca cove, Vinya cove, Font cove, Penya Tallada and Crancs cove.
2. What services do the beaches of Salou offer?
Salou's beaches are equipped with a variety of services to ensure the comfort and safety of visitors. These services include showers, WC, rental of sun loungers, parasols, beach bars and children's play areas and sports. In addition, some beaches such as Playa de Levante have an extensive landscaped promenade.
3. How is the access to the coves of Salou?
The coves of Salou, although more intimate and hidden, are accessible through various means. For example, Cala de Lenguadetes can be accessed from Calle de la Torrassa or along the coastal path from the adjoining beaches. Cala Crancs, on the other hand, is located near the Salou lighthouse and can be accessed by stairs from the street of Cala Crancs.
4. What activities can be done on the beaches and coves of Salou?
In addition to relaxing and sunbathing, Salou's beaches and coves offer a variety of activities for all tastes. From water sports, beach volleyball, to walks along the promenade and enjoying the local gastronomy in the beach bars. There are also children's play areas and sports on some beaches.